UNIACKE ESTATE MUSEUM PARK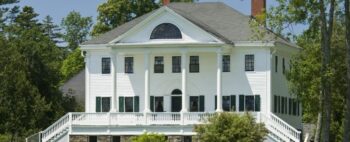 Uniacke Estate Museum Park opened for the season on June 1st. We've welcomed many schools over the past month for our Trip to the Past program.

UPCOMING EVENTS

**Music in the Drawing Room
Sunday, June 30 2pm Enjoy Baroque melodies of Hausmusik in the Drawing room of Uniacke House. Admission to the museum applies.

**Canada Day Open House Monday, July 1st 10am – 5pm Celebrate Canada's birthday at Uniacke Estate Museum Park. Your visit to the museum includes free admission and complementary treats in the Tea Room generously provided by Sobeys in Windsor. Musical entertainment inside the museum at 2pm performed by members of Hausmusik.

**Historic House Names of Nova Scotia,
a presentation by Joe Ballard Saturday, July 20 1pm
Join Joseph M.A. Ballard at "Mount Uniacke" as he presents Historic House Names of Nova Scotia. He is the author of "Historic House Names of Nova Scotia" and "Fairy Dells & Rustic Bowers". He is also former president of Heritage Trust of Nova Scotia. This free talk will take place in the Tea room in the museum.

**Blueberry Social Sunday, August 4th 2pm – 3pm.
Enjoy blueberry treats and tea while listening to musical entertainment performed by the Forever Young Fiddlers outside next to the Carriage House. The Playford Dancers will perform inside the museum. $8 per adult, $20 for a family. Price includes admission to the museum and the Blueberry Social.

**Sunset Secrets Saturday, August 17th 6pm – 8pm
What happened at Uniacke House when the sun went down? Explore the rooms behind the ropes. Contact 902-866-0032 to purchase your tickets. Tickets are $12 per person. They are selling fast, so register soon!

**Artisan Market Sunday, September 8th 11am – 2pm
Shop local, on the grounds of beautiful Uniacke Estate Museum Park. Admission to the market is free. Museum admission still applies. Local artisans are invited to participate in our third annual market at Uniacke Estate. Call 902-866-0032 or visit the museum for more information.


THURSDAY EVENINGS AT UNIACKE ESTATE
Thursdays in July and August - open 10am to 7pm.
We'll be open late on Thursday evenings. After 5pm we will offer special programming, including behind the scenes tours.

OUTDOOR TOYS AND GAMES
Sunday, July 7th and 21st, August 4th and 18th
1pm to 4pm

Toys and games will be out by the Carriage House every other Sunday afternoon in July and august. Staff will also be outside to talk about the barn.



Contact us by calling the museum at 902-866-0032.



MUSEUM HOURS
Monday to Saturday 10 am to 5 pm
Sunday 11 am to 5 pm

For the latest information on events and what's happening at Uniacke Estate, check out our website and follow us on social media:

https://uniacke.novascotia.ca/
https://www.facebook.com/uniac...
https://www.instagram.com/unia...