UNIACKE BAPTIST CHURCH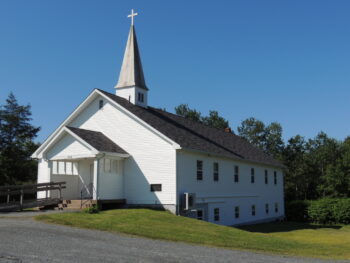 200 Etter Road, Mount Uniacke, NS
Parsonage 902-866-1996
Email: uniackebaptist@gmail.com
Website / Facebook Page: uniackebaptist.ca Private Messages Welcome
Linda DeMone (Rev.) Pastor of Uniacke Baptist Church

As interim Pastor I was voted unanimously as permanent Pastor for Uniacke Baptist Church on Thursday, October 21. I wish Pastor David Cumby all the best in his retirement.
We have a wonderful weekly Sunday School program with excellent, dedicated teachers.
The congregation enjoys the morning worship with a blend of old hymns and modern worship songs. Pastoral prayers are offered along with prayers for the people who live in our surrounding community.
The messages tell how Jesus steps into our lives to rejoice with us or to comfort us.
I have had experience in not only Pastoral Ministry but Youth Ministry. IF ANYONE has interests in either, or both - youth programs or support groups (grief counselling for example) - please leave me a message at 902-866-2594. We have a Facebook page: Uniacke Baptist from which many draw inspiration.
We have a Community Bible Study on Matthew, Chapter 5 - the Beautitudes - every Monday from 2pm to 3pm at the Church.
Exercise class is available from 9-10 weekday mornings.
Join us for choir practice which has started and is held every Thursday night at 6:15pm.
Thank you for your support in the past 11 months. I look forward to serving you as a Pastor and friend.
Paster (Rev.) Linda DeMone