UNIACKE BAPTIST CHURCH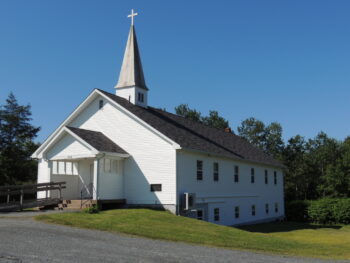 Check us out on Facebook … Email or phone us!
Pastor's Office Hours: Mon.–Thurs. 9am – Noon
200 Etter Road, Mount Uniacke, NS B0N 1Z0 Office: 902-866-2594 Cell: 902-499-6477 uniackebaptist@gmail.com
Regular Worship Services: Sundays @ 11am
… plus, Kid's Program for ages 3-11 resumes
On January 27th at 11am we launched our Winter / Spring Message Series, SEISMIC SHIFTS: LITTLE CHANGES THAT CAN HAVE A BIG IMPACT. Over the coming five months, our weekly message will be looking biblically and practically at such major issues in our life and Spiritual journey as:

* Increasing Contentment (Joy); Expanding your Faith; Improving Health & Rest; and Building Better Relationships, etc. A complete Series / Topic Schedule is available at our weekly services, or through the church office.
**Secondly, on Tuesday, February 5th from 10:15am to 11:30am in our Church Hall, we started up a new weekly Small Group under the theme "The Journey". Open to anyone interested in any aspect of their spiritual journey with God and Christ, these sessions are informal and require minimal preparation. We will use a free booklet "Our Daily Bread" (Canada) as a basic devotional guide for our weekly bible discussions and sharing time.
For more information, please go to the "Uniacke Baptist Church" page on Facebook, or you can contact Pastor David via the Church Office 902-866-2594, Cell 902-499-6477 or by email: uniackebaptist@gmail.com