UNIACKE ESTATE MUSEUM PARK UPDATE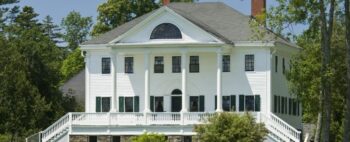 Uniacke Estate Museum Park is part of what was the expansive country estate of Attorney-General Richard John Uniacke (1753-1830). Built between 1813 and 1815, the grand country house is one of the finest examples of Georgian architecture in Canada. The estate offers visitors a vivid glimpse of life in the early 1800's among Nova Scotia's gentry.
WE'RE OPEN
Museum Hours: Wednesday to Sunday 10am to 4pm until October 2 (closed 12 pm to 1pm)
CLOSED Monday and Tuesday
* Gates open Tuesday to Sunday at 8:30am and close at dusk
* Gates open on Monday at 8:30am and close at 4pm.
TRAILS OPEN YEAR ROUND
Know before you visit:
* We will be taking information for contact tracing

* The Tea Room is closed; books and historic toys available in the Gift shop - we will pack it for you.
* Limited visitation: as of June 23rd, visitation is limited to one family group at a time.
* Masks are mandatory
* No full tours are given. An Interpreter is present on each floor to give an introduction and answer questions.
*Debit / Credit are accepted
* Social distancing is practiced in the museum
* Please use the Tea Room entrance and wait for a staff member to greet you; the ramp and verandah are exit only
* No public washrooms, except for museum guests. Please use the outhouses at the trail head.
Have you noticed the new benches by the Barn and Carriage House? We are working to create a more accessible experience for our visitors. The outhouses now have a smooth, graded entrance. A bike rack has been added to the parking lot.
Upgrades and construction on the Estate have nearly come to an end and the buildings and grounds are looking great. The verandah is waiting for its fresh coat of paint. Thank you for your patience.
Explore our 8 walking and hiking trails. The grounds are open daily. The main gate is open when the museum is open; the second gate is open from 8:30am to 8pm except Mondays when it is open 8:30am to 4pm. This is an on-leash park. Please pick up after your pets.
Have you tried:
* The self-guided outdoor tour Life by the Brook? This tour expands on the local history of the Estate, beyond what you might have read on the interpretive panels or during a visit to the house: https://uniacke.novascotia.ca/...
Paper copies are available in the museum.
* The seek-and-find challenge. Can you find all of the items on the list? A copy is on the welcome board in the parking lot and on our social media.
* An Ant's Life: A Uniacke Estate Adventure. This family friendly journey on the Drumlin Hill Trail was developed by Earth Adventures: http://earthadventures.ca/trai... You can find the QR code on our welcome board.
For the latest information on what's happening at Uniacke Estate and what to expect when you visit the museum, check out our website and follow u on social media:
https://www.facebook.com/uniac...
https://www.instagram.com/unia...
ENJOY YOUR ADVENTURE!