UNIACKE ESTATE MUSEUM PARK UPDATE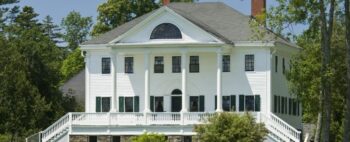 The Uniacke Estate Museum Park has re-opened for another season and is welcoming visitors to our tearoom, historic house museum, beautiful grounds and extensive trails system.
This Uniacke Estate Museum Park is part of what was the expansive country estate of Attorney-General Richard John Uniacke (1753 - 1830). Built between 1813 and 1815, the grand country house is one of the finest examples of Georgian architecture in Canada. The estate offers visitors a vivid glimpse of life in the early 1800's among Nova Scotia's gentry.
*****The Museum is open until October 1st as follows:
Wednesday to Sunday 1am to 4pm Closed Mondays
*****The trails are open: Tuesday to Sunday 8:30am to dusk. Monday 8:30am to 4pm
*Please remember to keep your pets on leash at all times and clean up after them. Bags are located in a dispenser at the welcome unit.
For the latest information on what's happening at Uniacke Estate, check out our website and follow us on social media.

https://uniacke.novascotia.ca/ https://www.facebook.com/uniac...

https://www.instagram.com/unia...