UNIACKE BAPTIST CHURCH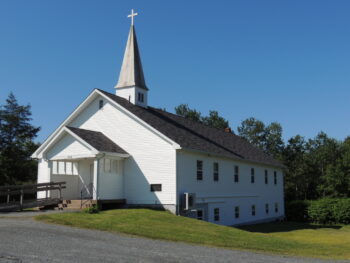 Canadian Baptists of Atlantic Canada "A Turning Place since 1980" (Deut. 30:30, NLT)
Pastor (Rev) Linda DeMone 902-866-2594 OR uniackebaptist@gmail.com
Regular Worship Services: Sunday @ 10am (includes Sunday School for ages 3-11, plus Nursery)

Check Uniacke Baptist Church out on FACEBOOK.

Up to date information on hours / contact information is on our Facebook Page and in the current issue of the hard copy and website of the Uniacke Newsletter.

THANK YOU for welcoming me into your beautiful Church Family and into the community of Mount Uniacke.
Christmas is a season of reflection and preparation for that special day while we await His birth, and also wait for the Second Coming of our Lord Jesus Christ. Advent is a way of reminding us of the journey to Bethlehem – the journey that brings Hope, Peace, Joy, Love and the Birth of the Christ Child.
Now that we are allowed to have services again, as of Monday 21st, to allow for Covid rules, we are going to have two Christmas Eve Services – one at 4pm and the other at 7pm on Thursday, December 24th at Uniacke Baptist Church. Due to Covid restrictions for contact tracing & attendance limits, attendance at these 2 services will require pre-registration. Check our Facebook page, "Uniacke Baptist Church" and the community page, early next week (week of Dec 20) for details. On Sunday, December 27th at 10am, we will have the Angel Tree Service, originally scheduled for December 6th. A Bible Study, counselling, support groups such as grief or as the need arises, is being allowed, however, I am going to make phone visits. Confidential counselling with Covid precautions begins Monday, January 4th by appointment – from 10am to 11:30am by phoning 902-866-2594. I look forward to serving all of you in our church family and in the Mount Uniacke community. Please do not hesitate to phone me at our church number 902-866-2594 and leave a message or contact me through email: May all of you meet Jesus in an unexpected way, as God richly blesses you this Christmas Season and throughout the year.
Luke 2:8-9: "And there were shepherds out in the field, keeping watch by night. And an angel of the Lord appeared to them, and the glory of the Lord shone around them."
Pastor (Rev.) Linda DeMone
Uniacke Baptist Church
902-866-2594
uniackebaptist@gmail.com