ST. PAUL'S UNITED CHURCH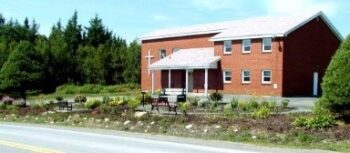 293 Etter Rd.,Mt Uniacke
PO Box 147, Mount Uniacke B0N 1Z0

email: saintpaulsunitedchurch@hotmail.com
fb: SaintPaul'sUnitedChurch,MountUniacke
Office Phone & fax: 902-866-2510

Diaconal Minister: Lori Crocker / (cell) 902-329-2227 (e-mail) loricrocker@bellaliant.net


Church Service and Sunday School: 10am
Refreshments and conversation after the Service
Lori's hours in the community – Wednesday & Thursday. You can call her or email her. For pastoral emergency, please call her cell phone 902-329-2227
To book St. Paul's please call Beulah at 902-866-2183,
or call St. Paul's and leave a message with date, time & your name.
'Too often we underestimate the power of a touch, a smile, a kind word, a listening ear, an honest compliment, or the smallest act of caring, all of which have the potential to turn a life around. Leo Buscaglia