SAINT PAUL'S UNITED CHURCH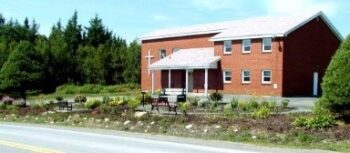 293 Etter Road, Mt. Uniacke, PO Box 147, Mount Uniacke, NS B0N 1Z0
Fb: SaintPaul'sUnitedChurch, Mount Uniacke
Email: saintpaulsunitedchurch@hotmail.com
Office Phone and Fax: 902-866-2510. Our phone is monitored at least once a day, so please leave a message with your name, number, date and time.
Diaconal Minister: Lori Crocker (cell) 902-329-2227 email loricrocker@bellaliant.net)
We wish all a safe and blessed Advent and Christmas

To book St. Paul's please call Eric at 902-866-0490 (at present, due to Covid 19, we are NOT booking birthday parties, etc. at St. Paul's). So where are we now in this covid pandemic? St. Paul's is open for Sunday in-person Worship Service at 10am. There are protocols to be followed, "wearing a mask, social distancing, screening questions and contact information. There is seating for 24, however, we know that not everyone will choose to attend so we plan for worship by Canada Post, email and Facebook to continue.
With safety protocols in place, and people being careful, we have opened St. Paul's to groups and we thank all for being safety conscious. AA, UCW, Holy Conversations and the Guiding groups have started again at St. Paul's. Thank you to all who took part in our Annual Christmas Dime Auction, and thank you to Uniacke Fire Department for allowing us to host it at the Uniacke Fire Hall.
St. Paul's Annual Memorial Tree Wreaths - Please see multi-page insert in this month's issue of the Uniacke Newsletter.