SAINT PAUL'S UNITED CHURCH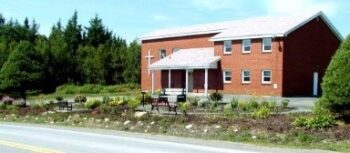 293 Etter Road, Mt. Uniacke, PO Box 147, Mount Uniacke, NS B0N 1Z0
Fb: SaintPaul'sUnitedChurch, Mount Uniacke
Email: saintpaulsunitedchurch@hotmail.com
Office Phone and Fax: 902-866-2510. Our phone is monitored at least once a day, so please leave a message with your name, number, date and time.
Diaconal Minister: Lori Crocker (cell) 902-329-2227

(email) loricrocker@bellaliant.net
CONTACT INFORMATION: please feel free to share with me, Lori, any feedback, questions, concerns or other requests - I love to hear from you.

loricrockers@bellaliant.net or call or text 902-329-2227
Although Covid Protocols are still needed and in place, St. Paul's Church Services will celebrate the Advent, Christmas Season.

We are maintaining our mail-out , email and Facebook Worship Services along with the in-person Church Services....10:00am Sunday morning.
St. Paul's UCW wishes to say THANK YOU to all who supported our Annual Christmas Dime Auction.
Annual Christmas Memorial Trees 2021 - yes, we are having the memorials. No, we are not able to have the service. Again, in this time of pandemic, things have to be different. Thanks to Rosanne and the Uniacke Newsletter we are, again this year, publishing the memorials in the Christmas Newsletter.

How to have your memorial published? Please contact Mary Rockwell 902-866-3017 or Pearl Williams 902-866-3002 and give them your info....names(s) of those in loving memory, your name and address. Price: A suggested donation of $10.00 or more as you feel able - tax receipts will be issued in the New Year, so please make sure we have your information. Although we cannot be together for the service, Art Nicoll will be placing a Christmas tree and Christmas lights at St. Paul's. 1021 marks the 30th year that Art has done so. Truly a memorable thing for which we are extremely grateful.
"Like snowflakes, my Christmas memories gather and dance - each beautiful, unique and gone too soon." - Celebrating our memories.
ADVENT SERVICES
Nov 28 - 1st Sunday Advent - Hope
Dec 05 - 2nd Sunday Advent - Peace
Dec 12 - 3rd Sunday Advent - Joy
Dec 19 - 4th Sunday Advent - Love
Dec 24 - Christmas Eve Service
More information to come.