SAINT PAUL'S UNITED CHURCH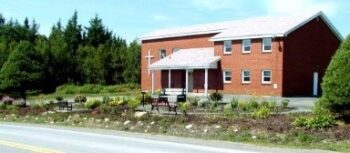 293 Etter Road, Mt. Uniacke, PO Box 147, Mount Uniacke, NS B0N 1Z0
Fb: SaintPaul'sUnitedChurch, Mount Uniacke
Email: saintpaulsunitedchurch@hotmail.com
Office Phone and Fax: 902-866-2510. Our phone is monitored at least once a day, so please leave a message with your name, number, date and time.
Our phone is monitored at least once a day.
Diaconal Minister: Lori Crocker (cell) 902-329-2227
(email) loricrocker@bellaliant.net
CONTACT INFORMATION: please feel free to share with me, Lori, any feedback, questions, concerns or other requests - I love to hear from you.

loricrockers@bellaliant.net
or call or text 902-329-2227
ST. PAUL'S IS IN LOCKDOWN ONCE AGAIN - St. Paul's is closed until at least May 20th.

Due to the rising COVID numbers and the restrictions recently announced, St. Paul's is closed to all. In-person services are cancelled until further notice. We are keeping all in our thoughts and prayers - stay safe - stay strong.
St. Paul's Mount Uniacke Pastoral Charge Emergency Planning & Response Committee
Covid-19 Response - Update #10
Date: April 22, 2021- TOPIC: Suspension of in-person worship & gatherings.
BACKGROUND: Our province has seen escalating cases of Covid-19 over the last week and in particular the Central Zone. We are considered to be included in the Central Zone. It is particularly alarming that 25 cases were reported on Wednesday and a further 38 cases today. Given that cases are now in a community spread mode, the Province of Nova Scotia announced today a further escalation in public gathering restrictions effective Friday, April 23rd 8am. Included amongst those new restrictions is that "....faith activities....are not permitted" and are to cease until at least May 20th.
Context for St. Paul's: The Covid-19 Response Team met on a Zoom call today to develop our plan for the next several weeks and perhaps longer if required. It is outlined below.
1. In-person Worship - suspended until at least May 16th.
2. Small group in-person gatherings - suspended until at least May 20th. This suspension includes gatherings at private residences.
3. Church building - closed until at least May 20th.
4. Church Group gatherings during suspension - virtual only. If there is a compelling reason for one or more church groups to gather during this suspension, it can only occur virtually through a phone call or Zoom meeting. Please contact Ron or Lori if this action is being requested.
5. Regular Sunday Services - the present practice of delivering Sunday worship by e-mail, regular mail and St. Paul's Facebook page will continue into the foreseeable future.
Yours in Christ, Ron Cochrame
OFFICIAL BOARD
Lori Crocker, DMChair Minister
Members: OB Chair - R. cochrane
Stewards Rep - Anna Steadman
Minister - Lori Crocker
UCW Rep - June Steadman
Finance - Eric Bent
Session Rep - Arlene Bent
Member-at-Large - Clair Donavan
Sunday School - TBD M 7 p - TBD