SAINT PAUL'S PASTORAL CHARGE - UNITED CHURCH OF CANADA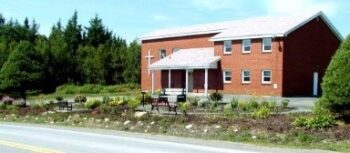 293 Etter Road, Box 147, Mount Uniacke, NS B0N 1Z0
FB: SaintPaul'sUnitedChurch, Mount Uniacke
Email: saintpaulsunitedchurch@hotmail.com
Office Phone: 902-866-2510
Pastoral Care: Jessie at 902-719-4998
Minister: Jessie Crabtree
Email: Jessie.Crabtree.293@gmail.com
For building access, questions / rental questions - please contact Eric at 902-866-0490

Saint Paul's is no longer masking but of course it is a personal choice.

UPCOMING SUNDAYS AND ST. PAUL'S EVENTS
Church Services
November 26 - Adent begins - Join us as we spend this season exploring the question, "How Does a Weary World Rejoice?"
November 26 - We acknowledge our weariness Hanging of the Greens - Luke 1:2-23 / Psalm 80: 1-7, 17-19
December 3 - We find joy in connection-Communion Luke 1:24-45 / Isaiah 40: 1-11
December 10 - We allow ourselves to be amazed Luke 1:57-66 / Psalm 126
December 17 - We sing stories of hope - Christmas Pageant Luke 1:46-55 / Luke 1:67-80
December 24 - We make room (no morning service, we will gaqther on Christmas Eve at 6:30pm) (for Christmas Eve Service 6:30pm)
December 31 - Church Service at 10am
WHAT'S GOING ON AT ST. PAUL'S

Saturday, Nov 25 - 2pm - Please join us for the reading of the memorials and carols. There will be refreshments.
Saturday, Dec 9 - 7pm - 9pm. Coffee House at St. Paul's. Join us for an evening of musical entertainment featuring "The Lily Lakers & Company". Refreshments of coffee, Tea and Snacks. Freewill Offering at the Door. Sponsored by the UCW St. Paul's United Church.
St. Paul's wishes all a safe and blessed Advent and Christmas Season. We thank all for your caring and sharing.