OUR FIRE DEPARTMENT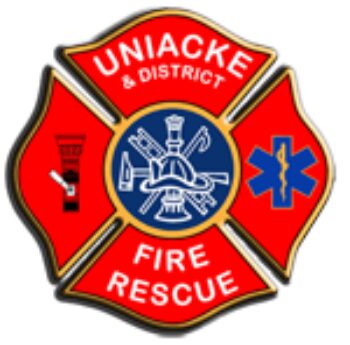 To build a fire department takes dedication, determination, and time and our department had a long haul. We went from a row of buckets on the wall of George Cole's shed in 1948, to the meetings in the old hall in summer, and around the warmth of the pot-bellied stove in the railway station in the winter.
A small barn sitting in the middle of a field in back of the station was purchased, moved to a concrete block, and made over into the first fire station. Sounds easy, doesn't it? Well, it wasn't. The men searched many places for a bit of land and then a building. They worked hard to put something in the building to fight the fires with.
It is very likely that most of us forget what they did with their efforts. They played a low iey and went plodding along with the changes they had to make. We can look back at the sight of that first fire truck and a grin comes to our faces. We see that old truck with its converted tank mounted on the back; a few hoses and willing hands just about summer it up. We had three fire sirens - one on Robert Patriquin's shop on the Mines Road, one on the roof of John Cole's store and the other on the roof of John Bawdick's barn on the Etter Road. The sirens were all hand operated as nothing was automatic then.
Our telephone operator, Mrs. Viola Shunamon, you might as well say, was one of them. She took that first call, cleared the lines and then called the firemen. She knew where to locate them as she had a list of names and where they expected to be at any given time. The rest of us knew that one long ring on the old crank phone meant FIRE; to the firement it meant "grab it quick".
You wouldn't recognize it, but where our fire hall now stands was one of the Uniacke's little schools of the forties. It stood just where the main building is. Well, in 1959, our district did away with its little schools because we now had a consolidated school.
The men of the fire department asked for the school site so they could expand. With the efforts of the firemen and councilors they they got the site. A little school on top of a sloping hill - can you imagine what went into forming that into a fire department??? There are firemen today who can tell you of pouring concrete around the clock on a weekend just to make the lower hall. The men were slowly but surely adding to the fire department vehicles as well.
The projects of the firemen were numerous - Bingo games, the firemen's picnics in the field opposite the hall and the dances held in the hall. always their goal was improving our fire department. These men are still committed today to raising a good portion of the money needed to help pay the expense of the fire department.
I wrote in 1979 about our fire department for the Sackville News and now, twelve years later, I went back for another look. this was because I knew that our department had travelled a long way since then. It is very likely that no Volunteer Fire Department pops u into place overnight, but none has been so gradual as ours. We went from buckets on the wall to what I saw in the fall of 1991 - a fully-equipped fire department and rescue center.
All through the talk I had at the hall, I kept hearing the department's theme - "We answer all calls for aid, to do what we can to help!" Using the experience they have gained, the men gear up and take out their vehicles with the equipment suited to the needs of this department.
Our area is from the Halifax County line to the Ashdale Church on the Rawdon Road, but at times the firemen have found themselves in Cameron Lake or Sackville helping out. The Mount Uniacke DFire Department is hooked up to the main paging system in Sackville. We, along with Beaverbank, Hammonds Plains, Waverley and surrounding districts help support the twenty-four-hour manned dispatch system. When we call 865-2424, our emergency number, help is on the way.
Our Fire Department has a Board of Directors composed of the Fire Chief, the Deputy Chief, the Secretary-Treasurer and the first two Fire Captains. The Department elects officers each year and the election is attended by our Municipal Councilors. Members of our Fire Department are full time volunteers. The only paid member is on maintenance because they need this help. Did you know that our fire department has third generation members in some of its men? We have junior firemen from ages thirteen to nineteen attending training each second Wednesday evening and the attendance is good.
Did you know that because we live in an area of many lakes that our department has a Zodiac, the best type of boat available for water rescue? It is always at the ready, inflated and on a trailer. The boat also carries life jackets for the men.
Our firemen are often called out by the police on their way to an accident, or an ambulance call is passed along to them because they are nearer to the call than the ambulance at the time and the firemen can give first aid. Would you like to know what some of the equipment is onboard our rescue truck? No space is wasted. Each compartment holds its own gear ready for use.
The department has outfitted the truck with the best rescue tools available. There's the "extractor". That's the one that cuts and pries doors open to free people from vehicles involved in accidents. There are the "air bags" that can lift a vehicle off a person who is trapped under it. They can also lift and hold part of a collapsing roof at a fire scene. There is also the "Cascade System" - the air tank that replenishes the air bottles as needed. The "generator", that supplies the power to the search light, so vital at the scene of an accident, is also aboard.
Inside the body of the truck is the first rate "first aid centre" with its carry-on and carrry-off medical supplies. What is a truck like this doing in a fire department? Well, our fire department of today is also a rescue center on wheels. That's why the firemen must knowC.P.R. and First Aid.
With all of this technology, there is one thing that didn't change. All of our firemen are VOLUNTEERS. Now, if you are inclined to think that this is a glamorous or high-profile job, think of also attending a head-on collision on the highway, or getting out of your bed in the small hours of the morning on a cold night in January for a fire, then having to go to work to earn your living only a few hours later. They do it all the time. Do you think we sometimes take them for granted? That sometimes we forget that they have earned the right to be known as the top of the heap in rating of volunteer fire departments? Just think how your fire insurance company loves them too. The fire department deserves a chapter in this book for they have helped us in the past an dit is they who will accompany us in the 1990's, the future. YOU'VE COME A LONG WAY GUYS! Sadie Siroy, A'WAY BACK THEN....AND NOW (Nov 27/91)
---------------------------------------------------------------------------------------------------------
NOW UP TO THE PRESENT TIME AND MORE INFORMATION FROM OUR NEW FIRE CHIEF, RYAN PENNY.

Sadie captured quite a bit of our fire department history on a few short pages. We have come even further in these last few decades as technology has improved. Uniacke & District Volunteer Fire Department apparatus now consists of 6 fire trucks, a utility truck, and a 16 foot aluminum rescue boat. We currrently stand at 33 members along with 4 junior firefighters. We respond to medical calls, car accidents, firest of all shapes and sizes, water rescue, ice rescue and more. Firefighter training for Level 1 take a minimum of 22 days along with many nights of studying. While all firefighters are still trained in First Aid and CPR, many of our members choose to take a 5 day Medical First Responder training program. There are many other 1, 2 and 4-day courses that firefighters attend on their weekends each year along with our regularly scheduled Tuesday night training sessions. Our calls are dispatched to us via a paging system and in the last decade we have been using software called "I Am Responding" which sends call information right to our cell phones and an app let us us select if we are responding to the fire hall or directly to the scene. The app allows firefighters to see who is available to respond on their phones as well as on a TV screen at the fire hall. We are just as committed to serving our community now as we were 70+ years ago when the department was formed. We are proud of our department and its members and can't thank the community enough for unwavering support.
Thank you, Ryan Penny, Chief
EDITOR'S NOTE: There's confidence in every corner of our community knowing that we have a great fire department that works so hard to keep us safe. On behalf of the community of Mount Uniacke I would like to say a huge THANK YOU to each and every one of our Volunteer Fire Fighters who have worked in, and are still working in, the Uniacke and District Volunteer Fire Dept. A SPECIAL THANK YOU to Todd Swinamer for the many, many years of dedication as Fire Chief. You definitely deserve a rest for your dedication and hard work.
Rosanne Bland, Editor, Uniacke Newsletter