MOUNT UNIACKE COMMUNITY MEMORIAL PARK THANK YOU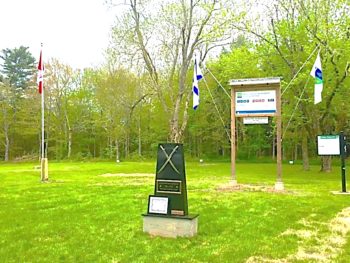 Thank you to our fabulous community for attending our Park and Monument Dedication. It is so nice to see community pride and appreciation for this beautiful park we have. We hope you will enjoy the park and continue to take pride in this space. We will continue to work at getting a permanent flag pole for the Canadian flag and hope to get some more picnic tables and benches.
While the dedication is over there are many people to thank. We had a list on the back of the program (many thanks to Rosanne Bland, Uniacke Newsletter for preparing / printing the program) of businesses and individuals who donated tangible goods to the building of the park.

We also had much support from many local residents.
First would be Elie Moussa who is a huge supporter of not only this community, but this park. He came out to help clean up and offered his restaurant for meetings.
Martaina Myra offered support and lots of encouragement and made signs supporting this project.

Michael Perry and Anthony Powell were also great helpers in getting the park cleaned up and the trees planted.

Venice LeBlanc custom made us the covers for the monument and sign so that we could have an unveiling.
Venice's husband David LeBlanc was incredible in the designing and implementation of the monument. It would not have happened or gotten located to the park without his help.

Randy Benedict from PRDirect made and donated our memorial signs that hang on the main sign and on the trees. His donation came after the program was printed and I couldn't have him forgotten. Thank you Michelle Ross!

As always, Uniacke Firehall and the Legion were there for anything we asked / required – from generator, chairs and the reception after the dedication.

Chris Innes put the roof and lights on the main sign and was there helping everywhere he could. I think he even got our son, Jonah to help get the bench to the park!

And, of course, Michelle and Bella who planted the beautiful garden! They also shared Lee with us. If you have ever been to the park, you've likely seen Lee mowing grass, cleaning out the ditches or watering the grass. He's an amazing asset to the community! When you see him, go and say THANKS…..he's always around!!!

We also need to extend thanks to the Curwin, Chater, Dalrymple and Macdonald families as well. We hope you will enjoy the park and continue to take pride in this space. The next project is to get the sign up at the Edmond Chater Skate Park. We have the sign, which has been generously donated by Paul and Laura McNeil and look forward to having it up soon!!