KEEGAN DOWN IS AWARDED THE 2018 UNIACKE DISTRICT SCHOOL JOSHUA LAKE-CROSSLEY MOST PROMISING ATHLETE AWARD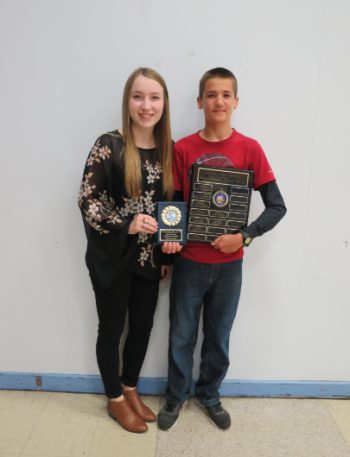 Joshua Lake Crossley (1997-2009) did not live a long life, but he lived a full life. Despite being born with a heart condition he pursued his dreams of being an athlete.
He skated with Riverview Skating Club from age 3-6 in the Canskate program.
He represented Riverview at Canskate competitions, winning medals in elements and speed skating events.
He started playing hockey in 2002 at age 5 with the West Hants Warriors where he started out playing centre and stood out for his fast skating and breakaway goals. He made his move to being a goalie with the Novice Advance team in 2005. In 2008 when his Atom AA team won the Nova Scotia Provincial Championship Josh was named to the All Star Team as the 1st line goalie. In Grade 6 Joshua was thrilled to play as a goalie on the Uniacke District School team.
Equal to hockey was his love of softball. He was his team's homerun hitter right from his first softball season at five years old. At age 12 in 2009, as Captain of his Squirt fastball team, the Uniacke Mustangs, Josh was awarded both Most Valuable Player and Most Sportsmanlike awards at the Nova Scotia Fastball Provincials. Also, in 2009 he was named team MVP for the season by the Pirates and Overall MVP for the Junior League for the Uniacke District Softball Association.
In addition to these main sports Josh played volleyball, basketball, soccer, floor hockey and golf. Then there were his more extreme sports: snowboarding, snowmobiling, and the dirt biking he loved most of all.
The Joshua Lake-Crossley Most Promising Athlete Award celebrates his passion and enthusiasm for sports, competition and life. This year, the Grade 7 student selected for demonstrating a competitive spirit combined with an enthusiasm and passion for sports is Keegan Down.
CONGRATULATIONS KEEGAN!