UNIACKE & DISTRICT VOLUNTEER FIRE DEPARTMENT - NEWS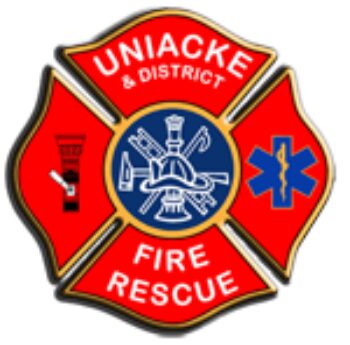 Happy Spring everyone! If all goes well, hopefully we have seen the last snowfall of the 2020/2021 season. With warmer weather upon us, cleaning up back yards is high on the priority list which, for several people, includes burning brush. Please keep in mind the wildfire risk season runs March 15 through to October 15 annually. This means that every day until October 15, 2021 you are NOT allowed to burn at all between 8;00am to 2:00pm daily. At 2:00pm, you MUST check the burning restrictions for Hants County to see if burning conditions are Green, Yellow or Red.
- if a county is shown in green, burning is permitted AFTER 2pm
- if it is shown in yellow, burning is permitted AFTER 7pm
- if it is shown in red, burning is NOT PERMITTED THAT DAY
- the map will appear grey each day between 8am and 2pm to indicate burning is NOT PERMITTED
Burning conditions can be checked online at www.novascotia.ca/burnsafe
or by calling 1-855-564-BURN (2876)
Domestic brush burning allows for up to 2 piles of woody debris to be burned. Fires can be no larger than 3 meters wide and 2 meters high. The Municipality of East Hants does not have specific requirements regarding open burning, so residents only need to abide by the Provincial regulations.
Firefighters responded to 7 calls for the month of February. 1 Chimney fire; 1 Illegial burn; 2 Medical assistance and 3 Motor vehicle accidents
With Covid restrictions seeming to ease as we head into the warmer months, our hall is open for rentals once again. Please call or email the fire hall at 902-866-2828 or hallrentals@uniackefire.ca to inquire about availability. Please understand availability and restrictions may change daily based on Covid guidelines put forth by the province.
Don't forget to follow Uniacke Fire on Facebook @ www.facebook.com/UniackFire and Twitter 9@UDVFD)
We post call stats, brush burning tips, 50/50 updates and much more. We still do have a website, but mainly for our hall rental calendar.
Finally, another huge THANK YOU to everyone who purchases 50/50 tickets in support of Uniacke Fire Department. We have raised thousands of dollars thus far and have already put the money towards 40 First aid Kits; 3 Automated External Defibrillators and 6 Thermal Imaging Cameras. We have committees currently researching other products to purchase and hope to make announcements in the coming weeks so we can continue sharing how we are putting the funds to good use. If you would like to purchase tickets in support of Uniacke & District Volunteer Fire Department, please click the following link: https://www2.rafflebox.ca/raffle.nsfd.71
Tickets may be purchased using a majory credit card or Visa debit. Ticket sales close each Thursday at 8:00pm with the winner being announced shortly after.
Take care everyone
Shawn Darby, Deputy Chief, Uniacke & District Volunteer Fire Department sdarby@uniackefire.ca